Welcome to My Map…here you will find nearly all the countries I have visited over the years!  You can click on any of the countries listed below and find an informative page with a view of what the scenery is like.
Under My Map on the Menu you will find Where is Ms Harmonica? …which will direct you to a page with dates and links to a gallery of photos and posts of my adventures!
Enjoy!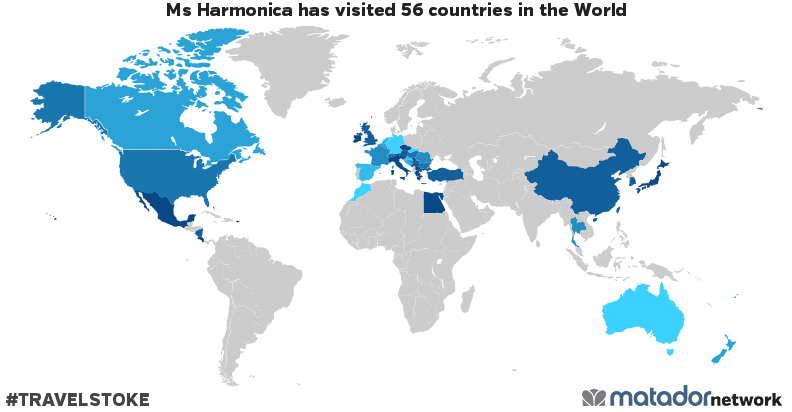 Ms Harmonica has been to: American Samoa, Austria, Australia, Aruba, Bosnia and Herzegovina, Barbados, Belgium, Bulgaria, Bahamas, Canada, Switzerland, People's Republic of China, Costa Rica, Serbia and Montenegro, Czech Republic, Germany, Dominica, Egypt, Spain, Fiji, France, United Kingdom, Greece, Hong Kong, Croatia, Hungary, Ireland, Italy, Japan, South Korea, Saint Lucia, Liechtenstein, Luxembourg, Morocco, Montenegro, Saint Martin, Macedonia, Macao, Martinique, Mexico, Nicaragua, Netherlands, New Zealand, French Polynesia, Puerto Rico, Romania, Serbia, Slovenia, Slovakia, Thailand, Turkey, Taiwan, United States, Vatican, U.S. Virgin Islands, Kosovo.
Get your own travel map from Matador Network.